"Who do you know?" In sales, it's a simple, powerful and often overlooked question. Knowing the right people can often provide a shortcut to increased production. But before you run out looking to meet new referral partners, perhaps you should consider how much business you are currently losing from the people you already know. An illustration:
Imagine bringing water from a river back to your campsite. After a strenuous half-mile walk, you realize there is a hole in your bucket, and you've lost much of that precious H20. How frustrating! Your once simple task has become much more difficult than it needed to be.
Most Loan Originators and RE Agents have a hole in their bucket as well. Out of the hole drains Lost Transactions from People We Know.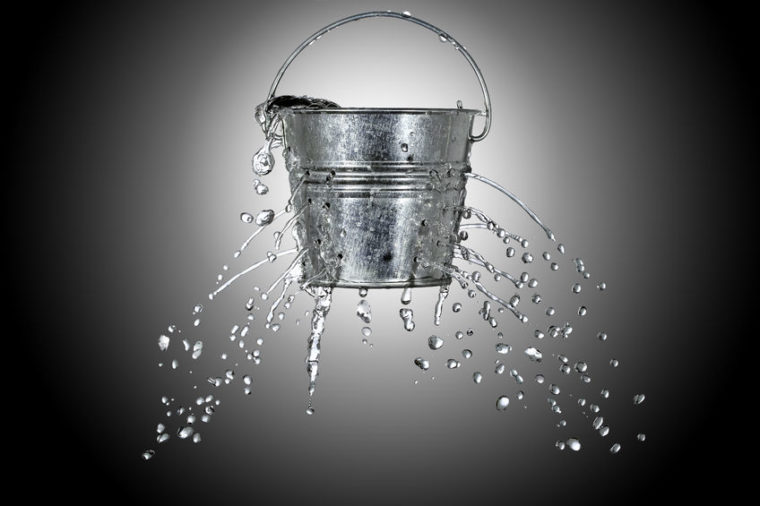 We've all been there. You're in the grocery store and a good friend excitedly begins telling you about the house she recently bought. You feel flush. You're flabbergasted and ask, "Why didn't you call me?" The answers range from "I didn't know that's what you did for a living" to "I didn't want to bother you." Huge potential commission… gone. Issue? A hole in your bucket.
And if you know a lot of people, this hole in your bucket can mean you're losing a lot of money. Let's consider how expansive your existing database really is.
Your sphere of influence might include: relatives, friends, referral partners, spouse, spouse's co-workers, church friends, parents of your children's friends, people who go to your gym, members of your book club, and more.
The connection possibilities are practically endless, but for the sake of this example, let's do some simple math based on an Loan Officer who knows 200 people.
10 percent of people move every year (this is a conservative estimate).
10 percent of 200 people is 20 moves each year by people you know.
Factoring in the buyer and seller sides, this equates to 40 potential Real Estate transactions that you could be referring to your RE Agents each year.
Did I forget to mention that those 200 connections don't include your past clients? Let's say our sample LO has 400 previous clients:
200 people you know + 400 past clients = 600 people in our Total Network
600 x 10 percent of people who move every year ÷ 12 months = 5
That's five transactions per month on new purchase business — just from the people in your existing network. Add in potential refinancing, investment property purchases and second homes, and you can see how cold calls can become a thing of the past.
These are eye-popping statistics, but what are we going to do about it? Here are three keys to maximizing your Client Database:
1. Organize your Database.
For many Real Estate and Mortgage professionals, disorganization is no more than an excuse to put off proactive phone calls. The contact information contained in your stacks of business cards, sticky notes, old emails and hard-copy loan files needs to be input into a contact management system, (think Outlook, Gmail, a CRM, or even just the Contacts section of your smart phone.)
To stay in touch with your Past Clients (and anyone else you know) you need to pick a tool, input your contacts, and carve out time to make the needed proactive calls to everyone in your sphere of influence. What do you talk to them about? See point #2 below.
2. Make sure everyone in your network knows what you do.
Often we assume the people in our lives understand all that our work entails. Realistically, many in your network have no idea what you do.
Communicating your skills and passion to those within your sphere of influence is a key factor in turning the people you know into the people with whom you do business.
During your proactive phone calls, educate your contacts regarding Mortgage and Real Estate 'Trigger Words.' You might tell them, "Any time you hear the words Real Estate, Mortgage, Interest Rates, Moving, Listing, Realtor, Refinance, etc., know that I can help!"
3. Identify your Top 100, then go deep.
When I say, "Create a list of your Top 100 cCients," it's not a figure of speech. You need to physically craft this list before you can get to the heart of maximizing your database, which is to dive deeper into your most important relationships.
Viewing the people in your Top 100 as friends, not clients, will help you appreciate, nurture, and pamper them with exceptional, next-level customer service. How do we treat our friends? We express our appreciation often, and we're alert to their needs.
Here are a few ways to cherish your clients:
Treat them to coffee or lunch
Call and check on them, asking compelling questions
Send handwritten notes commemorating personal and professional milestones
Take them golfing
Go hunting, fishing or hiking
Bring a group to a concert or sporting event
Curate helpful reports on hyper-local real estate information and data
Connect them to trustworthy professionals in your network, such as CPAs, financial planners and life insurance agents
Send them a thoughtfully selected book that fits their interests
Your stewardship options are unlimited, but the principle in play is singular: Treat your Clients like Friends. When trust is formed, that's when repeat business and referrals blossom.
Maximizing your Client Database isn't simply about plugging the hole in your bucket. It's about bringing a much, much bigger bucket to the watering hole.
Action Items
Organize all your contacts
Identify Top 100 clients
Place 10 proactive calls per week to your Top 100
Schedule five face-to-face meetings per month within your Top 100