Nick Carpenter is the owner of Sales Clubhouse, a full-service mortgage and real estate marketing company that offers done-for-you marketing solutions for LO's and RE Agents.  Nick wrote a Guest Blog Post for PressOn this week providing 4 Simple Ways for LO's to Use Paid Facebook Ads, and his article received some outstanding feedback.  I then met with Nick later in the week to interview him about how he helps Loan Officers with their marketing, and to talk about the steps required to build a successful online presence.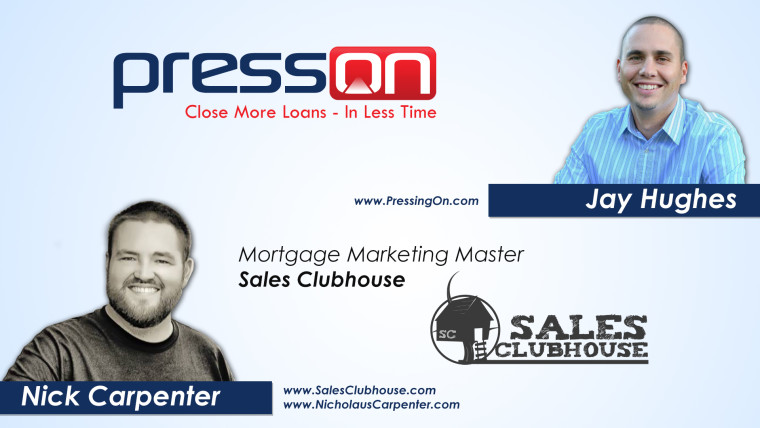 I spent about 20 minutes with Nick picking his brain and asking him questions about the best ways for Loan Officers and RE Agents to leverage the power of Social Media in their branding efforts.  In the interview, you'll hear Nick and I discuss:
Why You Need an Online Presence, Especially if You Are Already Successful Offline
The #1 Mistake Loan Officer's Make in Their Online Efforts
How to Generate Content for your WordPress Blog With Simple Online Videos
Why LO's and RE Agents Need an Online "Home-Base"
Why You Need to Give Borrowers and Referral Partners a Reason to Follow You on Facebook
Listen to Jay's Interview with Nick Carpenter
I know you'll learn a lot from Nick… I did for sure!  Hope your September Production is shaping up well; enjoy your weekend and come back next Monday ready to implement ideas you've gleaned from my interview with Nick.
Best –
j